New communities, sold-out projects and a national expansion
2021 has been a significant year for us at ID_Land, we progressed works across our portfolio, sold out several inner-city and regional projects, confirmed our national expansion strategy through a Queensland acquisition, and delivered amenities, titles and schools to our thriving communities.
National expansion begins with Queensland acquisition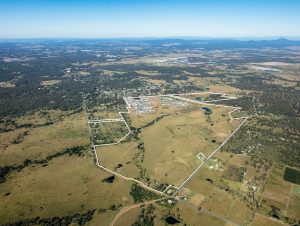 Perhaps the most significant announcement of 2021 was our first interstate acquisition, of an already popular community in Walloon, in the burgeoning Ipswich growth corridor.
The acquisition has allowed us to kick-start our national expansion strategy, and replicate the structure of ID_Land in Queensland. The project, which boasts a childcare centre, future proposed Catholic school site, over 30ha of open space, along with a restaurant and dining precinct, has a 10-year completion timeframe, making it ideal for anchoring our Queensland growth.
New display village launches at Attwell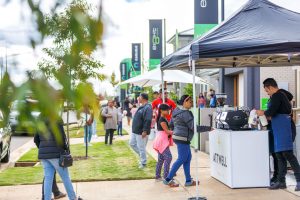 In April, we welcomed over 600 people to Attwell's brand new display village, which is home to the likes of Simonds Homes, Eight Homes, Carlisle Homes and Metricon.
Some of the activities on offer included giant games, a jumping castle, an animal farm, food trucks, coffee carts, and more.
We are looking forward to hosting more community events in 2022.
ID_Land expands into funds management

This year we also announced our diversification into private funds management with the launch of Title Capital – a capital raising and funds management arm that provides us with the capital flexibility required to continue acquisitions, expansion and growth.
Title Capital, our homebuilding arm Shape Homes and ID_Land will now sit under the newly created ID_CORP group of companies, representing the diversified interest of the group across development, construction and capital.
New Armstrong Creek communities launch to market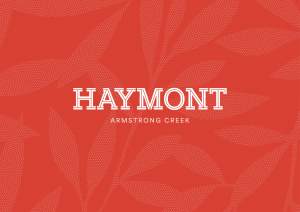 In 2021, we launched two new communities to Armstrong Creek – Haymont and The Reserve – which both achieved strong results on their respective opening weekends. Both sold more than 90 percent of available stock in the first 48 hours, signalling the continued strength of the Armstrong Creek market and the popularity of regional property.
These new ID_Land communities join Glenlee and Watermark in Armstrong Creek and demonstrate our commitment to the Geelong region, with over 2000 lots across the four projects.
Port Lane launches and sells out within six months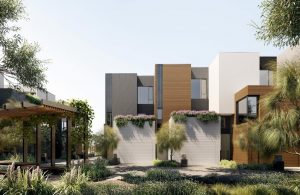 Alongside the strong results seen across our regional portfolio, our inner-city townhome precinct of Port Lane launched and sold within six months this year – generating $150m in sales.
To be built by Shape Homes, works across Port Lane's 122 Rothelowman and Hecker Guthrie-designed townhomes will begin in early 2022.
The result follows that of the now under construction Yarraville Place, which is now also sold out following its $45m opening weekend in late-2019, and underpins the confidence we continue to have in the medium-density sector as buyers seek lifestyle benefits, accessibility to amenities, proximity to essential services and education, and employment opportunities.
Amber, Watermark and Rosewood sell out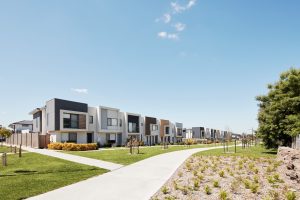 Joining medium-density projects Port Lane and Yarraville Place, three communities – Amber in Wollert, Watermark in Armstrong Creek and Rosewood in Plumpton – all sold out in 2021.
The results signal the continued strength of these booming corridors, as buyers continue to race into the market despite the end of the Regional First Home Owner Grant and the HomeBuilder grant earlier in 2021.
School site secured at Elements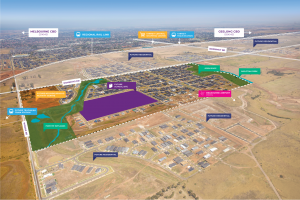 Earlier in December, we were delighted to announce that – after nearly ten years of meetings, negotiations and consultations led by our development team – a contract was signed for the purchase of the school site at Elements.
The site at Elements will be home to the new junior campus of Truganina North Secondary School (interim name), complementing the senior campus which will be built on nearby Morris Road. It will also be home to a future primary school and kindergarten.
What's to come in 2022?
In term 1 of 2022, Willowbank Primary School in Gisborne will officially open its doors. We are looking forward to seeing families across Willow begin to start their lives in the region, as homes continue to take shape across the community.
We are also launching our newest medium-density project in 2022, in The Crescent, South Morang.